-
It's early morning.
I stir a pot of oats that sits upon my camping grill at the back of my Jeep. The sounds around me are peaceful; more peaceful than you would expect a rest area off of the highway would be. The lot is mostly empty, aside from a few cars stopping for a break.
"You sleep in there?" A passerby asks curiously, eyeballing my small SUV as they walk towards the bathroom. They peer into the open trunk of my vehicle and notice the makeshift bed and camping supplies.
I speak proudly as I give them a brief explanation of how I've called my small Jeep home for the past three weeks while traveling. In fact, rest stops had become my go-to place for a spot to park my "home" overnight.
This type of attention became normal and almost expected from onlookers who noticed my converted vehicle. Every time I opened my hatch to expose my homemade living quarters, I was met with either skeptical curiosity or genuine admiration for what I was doing.
For me, converting my little Jeep Patriot into a camper was an exciting challenge that made me appreciate a minimalist lifestyle. With my small living space being a constant work in progress, I learned what worked for me and what didn't, and I simplified my daily life to make improvements for space and comfort.
I loved the task of turning my small SUV into a space comfortable enough to live in for up to a month at a time, and found it much easier to accomplish than you would think. Here is a little tour of the place I call home during my road trip travels, in hopes of inspiring you to get out there in your car and find some adventures.
At First Glance
Cooking
With my surroundings changing so often, it was important to me to have a consistent place to be able to create meals without feeling cramped for space. After a bit of trial and error, I settled on a dining setup that worked easily for my life on the move.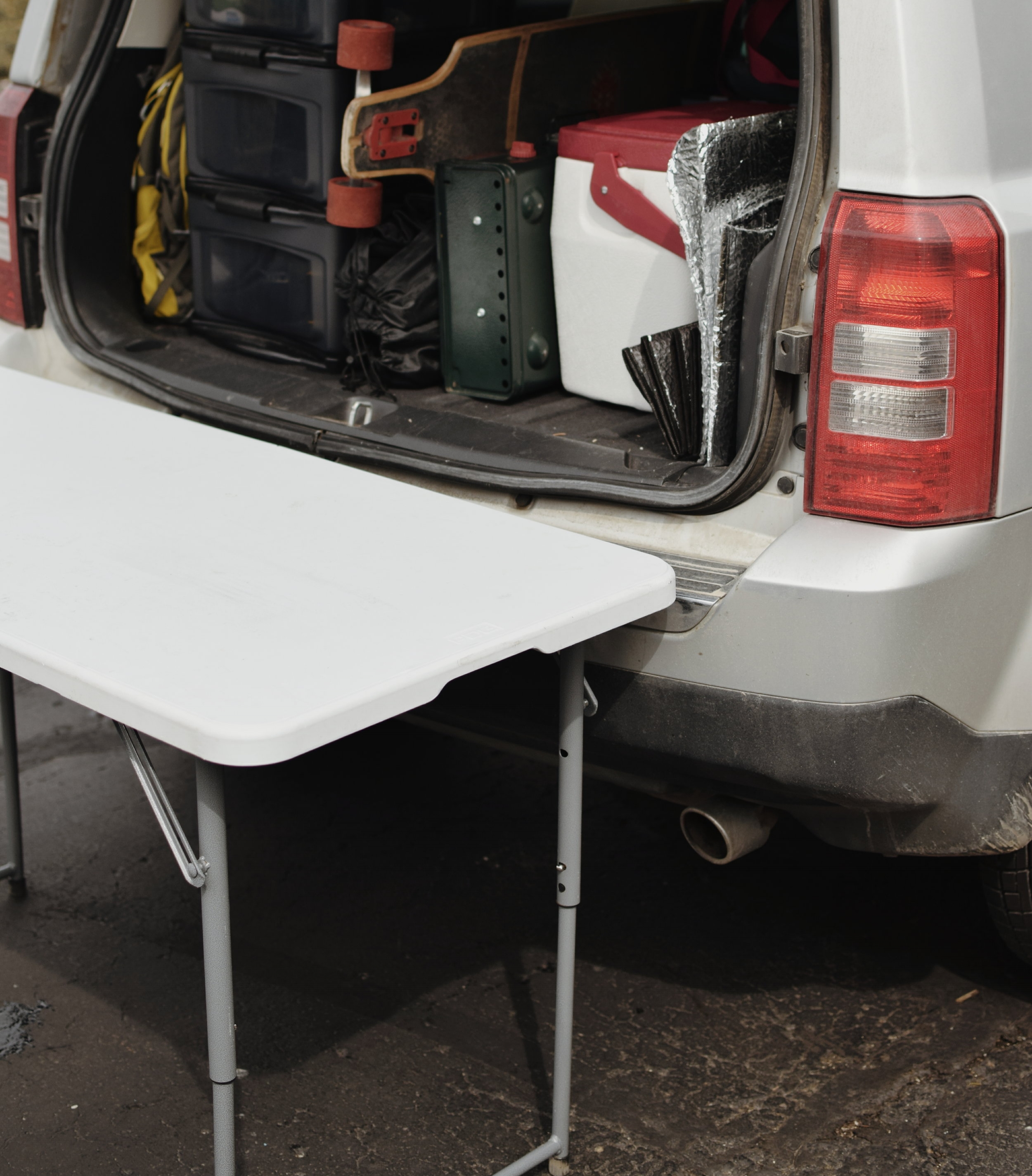 Wanting a cooking space no matter where I was, I searched around for a folding table that fit perfectly to the height of the back of my Jeep.
Sleeping
Being able to sleep comfortably in the back of my Jeep was my main focus, and I tried out a few bed styles before I found one that worked for my vehicle size.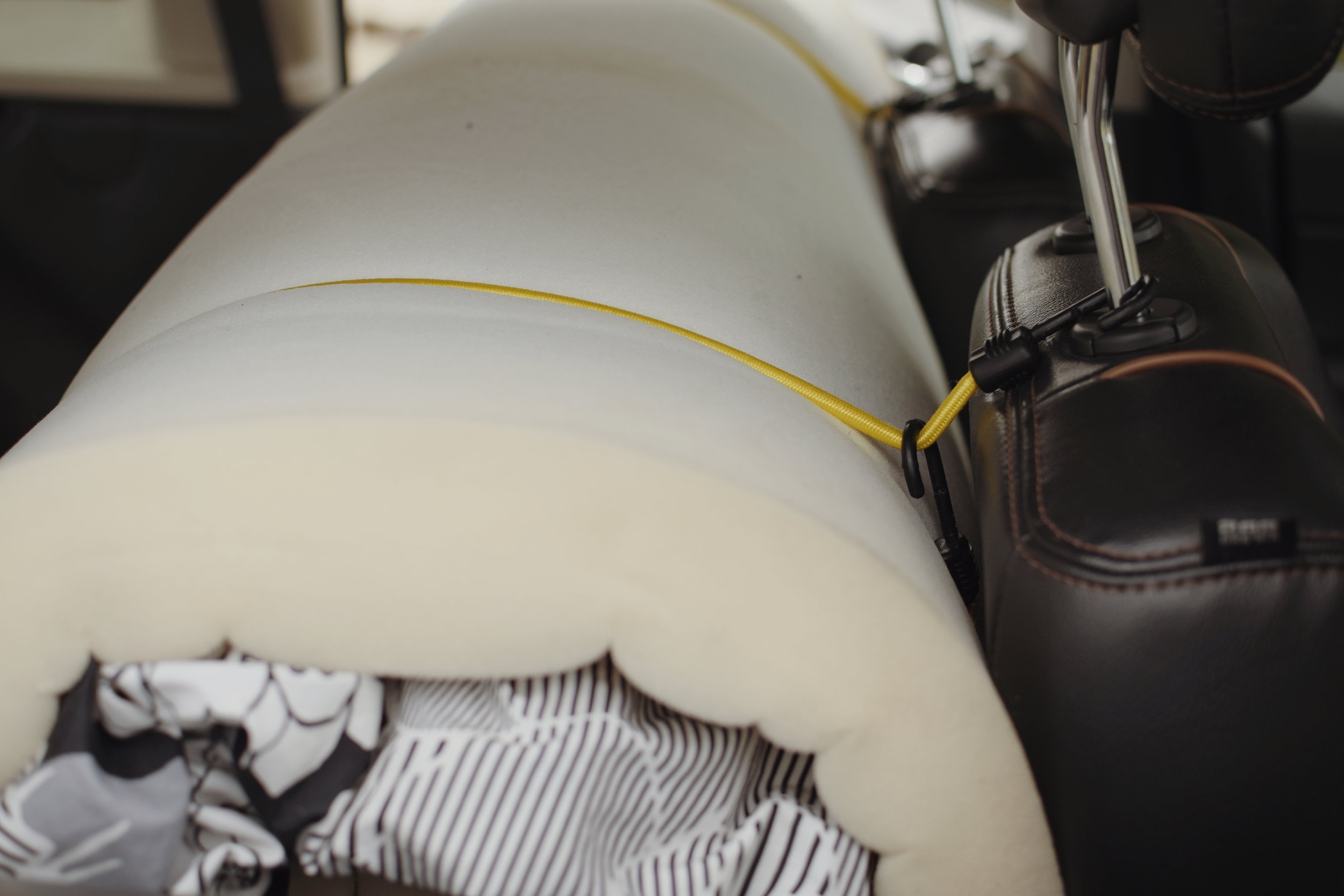 Bungee cords clipped to the headrests kept my bed rolled up and intact while avoiding any shifting while driving.
By pushing my front seats forward all the way, I had plenty of room in the back to sleep while keeping room in the front for the rest of my gear. I also made use of the area underneath the backseats for extra storage and added support for the head of my mattress.
Privacy
While it was pretty obvious I was camping out of my car, I didn't want it to be apparent while I was sleeping. For security purposes, I cut thermal bubble insulation sheets to fit each window of my Jeep.
The window coverings were especially useful on cold nights, or to keep my windows blacked out while away from my car for lengthy periods.
(Bedding above featuring my favorite Rumpl travel blanket)
Ventilation
On warmer nights in more secure areas like campsites, I cut mosquito netting to fit my open windows and sunroof as well as using a bug canopy for my open trunk.
Traveling and living out of my Jeep is one of my favorite ways to get out adventuring, and I enjoy tweaking my setup with each new trip. Converting a car for camping is a fun project and learning experience in every sense. By learning to rely on less, you seem to really experience more. I hope this post inspires people to makeshift their own adventure-mobiles and find the freedom in car camping!
A big shoutout to Rumpl for creating my favorite blanket ever...a MUST have for any car camping adventure! For more info on camping with a Rumpl blanket, visit Rumpl.com.